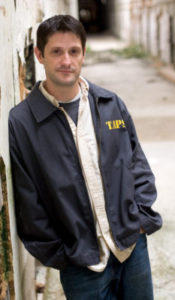 As anyone who reads this blog probably knows, I'm not a fan of the SyFy Channel show Ghost Hunters. I haven't watched the show for a few years now (with one exception, which I will soon explain), and most of my paranormally-involved friends and acquaintances no longer watch it either, for a myriad of reasons. But I actually tuned in last week, because they were advertising a development that would mean Ghost Hunters would "never be the same." Basically, in what is perhaps one of the worst-kept secrets in television history, Grant Wilson, one of the founding members of TAPS, was leaving the show.
Now before I get into my criticisms and have to once again deal with a bunch of comments saying how I'm jealous and have sour grapes, I have to say that I, once upon a time, loved Ghost Hunters. It was great to see a show with actual paranormal investigators and not just local yahoos and self-proclaimed psychics running around making claims they could never verify. These were guys who were dedicated, spent lots of their own time and money investigating the paranormal, and used scientific methods. We were all happy for them, and they inspired many more people to get into this field. But things quickly began to change. Instead of being skeptical and trying to debunk things, now they were finding EVPs every week and claiming locations were haunted, something they'd never done before. The focus shifted from helping the average family with ghosts (anyone else remember "We're here to help?") to pompous claims of being the first and only team to ever investigate whatever famous haunted location of the week they were visiting (which was rarely the case). The show went from being something we all enjoyed and respected and turned into a ratings circus. Those of us who actually investigate the paranormal came to see what the show was now really about: ratings and money.
Again, before anyone has a chance to lob insults my way for being jealous or whatever, let me just say that no, I do not want a TV show. I've been on TV many times, from local news to the Discovery Channel, and I've turned down many, many other shows, some of them quite ludicrous in their premise. I'm not jealous of them at all, merely disappointed. And as many paranormal investigators will tell you, when TAPS rolls into town, they change things. They do things to make it harder on the rest of us to get into places. They've done this with two locations my group had investigated prior to TAPS ever being there, one of them being Snug Harbor, a recent episode that I watched (see, told you I'd get to it). And for those of you who think the show is entirely real, I have a script they left behind that I can show you. They didn't investigate overnight, only filmed the investigative shots they needed and then bailed.
Anyhoo, now that the disclaimer is over, my thoughts on Grant leaving. To me, Grant always seemed the more upstanding of the two founders of TAPS. Jason Hawes has always seemed a bit pompous, and in more recent seasons just seems very put-upon to be doing the very easy thing he does and gets paid tons of money to do. His lack of care shows through in every episode. You can tell his passion is gone, and he's just doing this for the money now. Grant, on the other hand, has always seemed more compassionate and invested in the work.
Grant is a controversial figure though, as it seems that whenever TAPS gets caught faking evidence, Grant is at the center of it. Lots of people I know blame Grant for this, and call him the worst of the bunch. I don't quite see it that way. I wonder if he's just not as into the money, the trickery, the ratings, and perhaps his heart just isn't into hoaxing things? And maybe that is why he fails.
According to a recent Grant Wilson FAQ on the TAPS website (which now just leads to the same info on Jason Hawes' website), Grant left to pursue his education. If so, good for him. I tend to believe that his heart just wasn't in it anymore. Though this could simply be a huge ratings ploy. Tease that he's leaving on the season finale, then sort of admit that he has a "few more investigations to do" (so he WILL be back next season), and maybe by the time that all happens, he's miraculously changed his mind and stays with TAPS. Even the way they handled his exit was staged. He tells Jason to turn off his mic so he can tell him while they are investigating? Hogwash. Jason knew exactly what was going on. They tell Steve Gonsalves to gather the team for a private meeting, and then the cameras cut to the team sitting in a restaurant, obviously being filmed by multiple cameras. Yeah, very private. Then the waterworks when Grant announces his departure. Maybe tears of joy that they all might get more airtime now (and thus, more money)?
I wish Grant well. I really do. Like I said, he always seemed to be the most genuine of the bunch. But that being said, he could have left many years ago, when the credibility of the show was falling apart, and he didn't. I've seen people on Facebook and other outlets thanking Grant profusely, and they are almost like memorials. He's not dead, folks. And ghost hunting existed long before he was on TV. And mark my words, he will be back, at some point.